Hello Trust in Play!!
I wanted to share here a project that I have been working lately together with @awhitney @vidityavoleti and @alberto for Edgeryders @marina from Culture Hub Croatia and many more.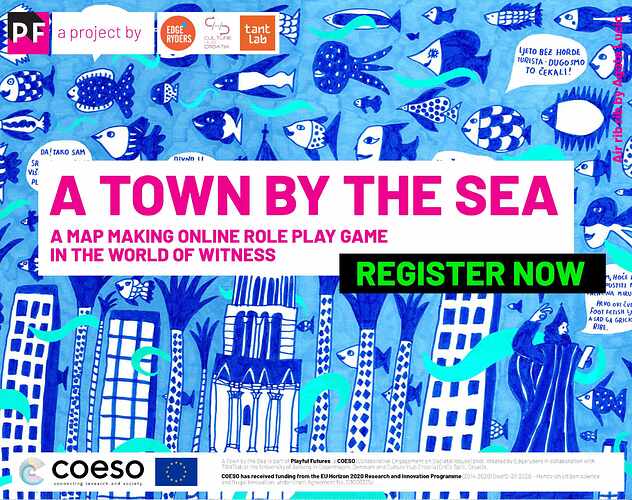 The project is called Playful Futures and you can read more about it here, and we now in a pivotal time since we will start play the game that sits at the center of the project.
The game is called "A Town by the Sea" and it's a map-making game in which players take the role of citizens of a small and lovely seaside town that is facing the issue of sea-level rising in the context of climate change.
It's a 2 hours game, very light and perfect if you never played any Role Play game but it also leave space for more deep exploration if you're a RPG passionate.
Next week we will start with the Prologue session and you can register here if you're interested PlayfulFutures — Matteo Uguzzoni - Urban Games
Following that we will have the true Play session, 10 in total with only 5 spot max each, so if you think this is for you I suggest to go ahead and reserve a spot right away!
If you know someone that can be interested also feel free to share the link, the game is open to anyone and everywhere, it will be facilitate in english and the only thing you need is a internet connection and a pc (sadly we are not able to accommodate mobile play at the moment).
Ok I'll do some crazy tagging now :))
@maria_s @MarinaKy14 @LizzieH @LindeGa @KonstantinaZ @tomo_kihara @BagelandBalloon @MGrelewski @Sa.rah @Kkekkas @jsenzel @soly @Highfather @KyrAvram